Our team consists of professionals divided into different areas:
Transformation: this is the place where sheet metal is adapted to production needs, thanks to the use of
CNC-machines.
Shaft structures and swing doors
Mechanical Parts: where the load-bearing structure, i.e. the skeleton of the lift system, is conceived
Cars Department: here the aesthetics of the structure begins to take shape
Painting: thanks to electrostatic powder coating, this process occurs without the use of solvents, as compared to traditional paints. It is therefore an ecological solution that allows us to respect the environment and minimise the health risks for our operators. The installation, within factory since 2014, guarantees faster processing times and a far superior quality.
Offices
Our Team:
Aldo Scaringella: deals with suppliers and logistics. He coordinates the team as a coach, personally participating in the various phases of design, production and assembly. Like Michele and Luigi, he has gained over ten years of experience in his area of competence.
Michele Mastropasqua: is among the very few digital natives of his generation, for at the age of three, he fiddled with his father's old 286 computer as well as with MS-DOS, which held no secrets for him. Loyalty and honesty are the principles that guide him in establishing solid ties with customers.
Luigi Sciscioli: direct and precise, he is the technical / commercial reference for customers and associates. He is always alongside the production area, continually innovating and improving production and operational processes. Iron processing is his specialty.
We like to imagine the construction of a lift as similar to the work of a tailor. In the era of the mega factories producing standard machinery, our job is to develop innovative, tailor-made solutions able to adapt to any environment, with the utmost commitment to deliver the product on schedule.
We seek to be humble, because we want to continually be ourselves, with our feet firmly planted on the ground, yet with a strong desire to grow.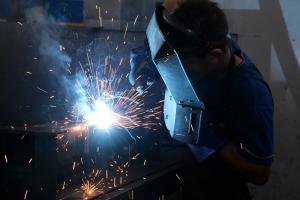 We have been producing means of transport since 2009. For, though we might forget it at times, this is exactly what a lift is: one of the safest means of transport worldwide.
After working in the industry for years we felt the time was right to innovate. Therefore, we immediately decided to revolutionise "our little world" of lifts and hoists with customised and cutting-edge solutions.
From design to prototyping, from steel processing to product assembly, from painting to testing, we follow all the production steps until delivery to our final customer, the installer.
Specialisation in solutions with reduced pit and headroom has enabled us to collaborate with industry giants, especially when construction challenges are particularly hard and personalisation becomes essential. To think that our products are an integral part of major shopping centres, stately buildings, private residences and shops, fills us with pride.
Our products can be customised down to the smallest detail: from walls to lighting, through floors and accessories, up to painting and the use of innovative materials.
COMPANY PROFILE